---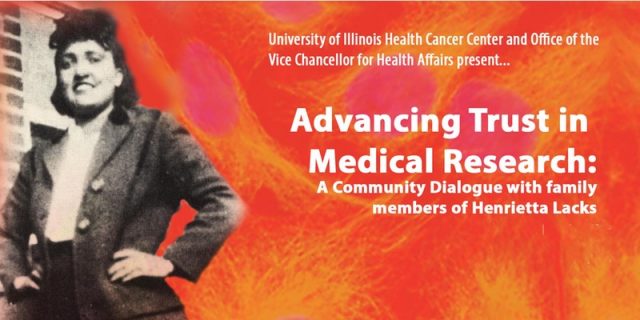 Join us for a very special program with family members of Henrietta Lacks.
In this new era of precision medicine in which researchers, health care providers, and patients work together to develop individualized care to fight life-threatening diseases, the ability to establish trust between patients and medical researchers is more critical than ever.
Join UI Health Cancer Center experts, a cancer survivor, and family members of Henrietta Lacks, an African American woman whose cancer cells became the most important cell lines in medical history, to discuss the impact of her important legacy on medical research, efforts to safeguard public trust and the Cancer Center's participation in the National Institutes of Health All of Us Research Program, a historic effort to gather data from one million or more people living in the United States to accelerate research and improve health.
Robert A. Winn, MD, Professor of Medicine; Associate Vice Chancellor for Community Based Practice; Director, UI Health Cancer Center, and Dara P. Richardson-Heron, MD, Chief Engagement Officer, National Institutes of Health All of UsResearch Program, will give remarks and lead the discussion.
After the program, Lacks family members will sign copies of Immortal Life of Henrietta Lacks by Rebecca Skloot and the HBO film, starring Oprah Winfrey, about the writing of the book will be shown.
Program:
111:00 a.m.-12:00 p.m.: Lunch
12:00 – 1:00 p.m.: Panel discussion with Lacks family, UI Health experts and special guests
1:30 – 2:00 p.m.: The Immortal Life of Henrietta Lacks book signing
2:00 – 3:30 p.m. Screening of the HBO film starring Oprah Winfrey
The program is free and open to the community.
Click here for directions and parking information. Please email uicancercenter@gmail.com if you have any questions.
RSVP is required. Click here to learn more about the event.
Join the conversation @UILCancerCtr #UIHealthOnTrust