SUMMARY OF APPLICATION TEMPLATES
QUESTIONS RECEIVED FROM CYCLE 3 APPLICANTS
(please view whole page as some existing questions have been updated below)
I need more information on who is non-eligible. Members of the ChicagoCHEC Internal Advisory Committee (IAC) and Program Steering Committee (PSC) are not eligible to apply. ChicagoCHEC PIs cannot be on a research team, but may serve as a mentor to someone on the research team.
What are the specifications for font, etc? Please submit your application with 0.5 margins, Ariel font, size 11. We will follow NIH requirements for density, spacing, color.
GENERAL QUESTIONS
My team and I do not know which grant mechanism to apply for.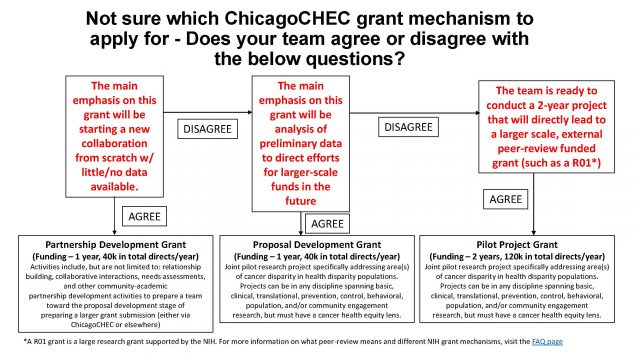 What is the difference between Co-I and Co-PI?  Traditionally the sites that are submitting the proposal are named as the Principal (or prime) site and thus the investigator at that site is named a Principal Investigator (PI) on the grant. Other sites listed on the grant serve as sub-sites and thus are listed as Co-Investigators (Co-I) on the grant. The Incubator & Catalyst Grant Mechanism sees all investigators (whether at an institution or partner organization) as a Co-PI, therefore all investigators from UIC, NEIU, and Northwestern as well as the representative(s) from the partner organization will be named as Co-Principal Investigators on the grant.
Can proposals be submitted with a team from 2 out of the 3 ChicagoCHEC institutions? Each proposal must have a Principal Investigator from Northwestern, UIC, and NEIU. In addition, each proposal must involve at least one partner organization that is a community-based organization or other type of partner, including but not limited to federal or local government agencies, school districts, and healthcare providers. The individual or representative of the partner organization must be named as a Co-Principal Investigator.
Are graduate/doctoral students, fellows, research staff, and adjunct faculty eligible to be Principal Investigators for a pilot project, partnership development, or proposal development grant? (updated based on cycle 3 questions)If a person falls into one of the above categories, we encourage them to contact the team at [email protected] as we look as these individuals on a case by case basis. Generally speaking, graduate/doctoral students, fellows and research staff are eligible to apply with mentor backing. Adjunct faculty can apply.
Can you clarify what peer-reviewed means and the NIH grant structure? We discuss peer-review in the context of grant applications and funding. Briefly, peer-review means meeting three criteria (as outlined by the NIH): (1) a peer review system which uses primarily external reviewers and is free of conflict-of-interest; (2) a ranking or rating system in the review process based on the scientific merit of the proposed research; and (3) a funding system based primarily on the peer review ranking or rating of the research applications. When we say that we want the ChicagoCHEC funded projects to go onto to external, peer-reviewed larger-scale funding we are mainly referring to grants funded through the National Institutes of Health (NIH). For a complete list of other funders that follow the peer-review process click here. For more information on the grant mechanisms available from the NIH, please click here.
CAREER DEVELOPMENT/MENTORING
Who is required to submit a Career Development and Mentoring Plan? (updated based on cycle 3 questions) Per NCI requirements, investigators at the assistant professor level are required to submit a Career Development and Mentoring Plan. Individuals at the associate professor or full professor level should not submit a Career Development and Mentoring Plan. Trainees (master's level and below) and support staff who will be involved in the proposed projects do not need to submit a Career Development and Mentoring Plan at this time.
The RFP describes two sections regarding career development – as part of the 5 page research proposal and a separate "Career Development and Mentoring Plan." What information regarding career development should be presented in the research proposal and what information should be presented in the separate career development plan? The Career Development and Mentoring Plan is only required for early-stage investigators (e.g., assistant professor level/has never held R01-level funding). Regarding what information is warranted in the 5 page research proposal, no more than a paragraph with a high level overview of plans for career development & mentorship is needed, since these details will be described in the Career Development and Mentoring Plan. However, applicants may wish to provide additional description of plans for inclusion and training of minority and/or underrepresented students/trainees.
SUPPLEMENTAL FORMS TO THE RESEARCH PLAN
What is the new format NIH biosketch? Please visit this site for details on the new format NIH biosketch. Use "Biographical Sketch Form Page – Forms Version D." The samples can serve as a useful example.
Does the representative from the Partner organization need to complete a NIH biosketch? (updated based on cycle 3 questions) Yes, the representative from the partner organization is considered a Co-PI on any ChicagoCHEC grant and thus also needs to complete a new format NIH biosketch. Please see the Alliance for Research in Chicagoland Communities site for helpful information on creating a biosketch for partner organizations. Biosketches do not need to be submitted for trainees (master's level and below) and support staff, just senior/key personnel.
Is there a budget form or template that should be used? NEIU, UIC, NU, and the Partner organization will each need to complete separate budgets, totaling four budgets at time of submission. Please use the template based on NIH's PHS398 form page four. Please see above for your institution-specific template form. This form includes the budget template and justification. To calculate the NEIU budget, please use this template, then please insert values in the overall budget template. If your team is applying for a pilot project catalyst grant, please insert an overarching budget for year 1 and year 2.
What is the difference between indirect costs and direct costs? Each institution collects direct costs (sometimes called, "directs") and indirects costs (sometimes called, "indirects") from each budget that is submitted in a grant application. Direct costs are determined by the investigator based on the project needs, while indirect costs are determined by each institution. Because of indirect costs being site-specific, there are different rates at which indirect costs are taken out of budgets. For example, Northwestern University takes 36% of the overall budget for indirects. Sometimes, indirects have other names that might be institution-specific, such as facilities & administration rates (F&A rates). Direct costs are those costs that benefit your project, such as costs for salary, equiptment for your project, or travel. Indirect costs are costs that benefit you indirectly through your institution, department or section. An example of indirect costs are charges for department telephone use, postage and printing and computer use.
What are the fringe benefit rates at each institution? Fringe benefit rate information for Northwestern can be accessed here: NU fringe benefit rates (for example, for faculty paid from federal NIH funds, it is 24.7% for 2016). UIC fringe benefit rate information  can be accessed here: UIC fringe benefit rates. NEIU fringe benefit rate information can be computed with the spreadsheet that can be accessed here: NEIU fringe benefits (if using this spreadsheet, note that the examples provided within assume that the NEIU faculty member is earning an annual salary of $68K. Three color coded examples are included: (1) a course release during the 9-month academic year; (2) 1 month summer; (3) 1/2 month summer – for smaller budgets.)
Should ChicagoCHEC budgets adhere to the NIH salary cap? Yes, please use the NIH cap of $185,100.
What F&A rates (indirect costs) should be used? No indirect costs are allowed. Please contact [email protected] for specific questions.
Where should we include a description of current/pending funding (other support)? Please include this information at the end of the budget justification.
GRANT SUBMISSION
What is NITRO Competitions and how do I use it? NITRO Competitions is a software platform developed by the NUCATS (Northwestern University Clinical and Translational Sciences Institute) to support grant submissions. Please see the Upload Guide for instructions. NITRO Competitions will be open on 1/1/2017 and will close on Monday, 1/16/2017 at Midnight. For questions, please contact [email protected]
What is exact time receipt of proposal is due? (updated based on cycle 3 questions) All grants are due no later than midnight (CST) on Monday, January 16, 2017  Friday, January 20, 2017.