---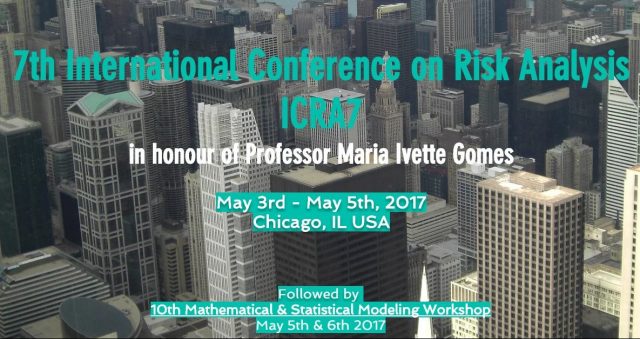 May 3rd – May 5th, 2017
Northeastern Illinois University
Chicago, IL USA
Deadline for Abstracts is Friday, March 17th, 2017
Faculty/Researcher Abstracts for Oral Presentations must be submitted to:
Elena Navas-Nacher, PhD, MS
[email protected]
Students Abstracts for Poster Presentations:
Emma Turian, PhD
[email protected]
Continuing in the spirit of six earlier meetings organized by the ISI Committee on Risk Analysis (ISI-CRA) of the International Statistical Institute, this year's conference focuses on Cancer-Related Risk Analysis.
The Chicago Cancer Health Equity Collaborative (ChicagoCHEC) will host ICRA7 at Northeastern Illinois University's Main Campus located at 5500 N. St. Louis Ave in Chicago, USA. Registration is now open and early registration is encouraged. 
The format for the meeting will include plenary talks, organized sessions, and sessions with contributed talks and posters. The conference includes keynote presentations by world-renowned scientists. Students are encouraged to enter a poster competition and present their projects to conference attendees. There are no events scheduled simultaneously so you will not miss anything. A Gala Dinner will be held on Thursday, May 4th and will feature a keynote presentation, a student poster award ceremony and live entertainment.
The ICRA7 will be followed by NEIU's 10th Workshop on Mathematical and Statistical Modeling, which will begin at 1:00PM on Friday, May 5th, 2017 and continues through Saturday, May 6th, 2017 at Northeastern Illinois University's Main Campus. For general conference information please email [email protected].
To learn more about the event, please visit the website.