---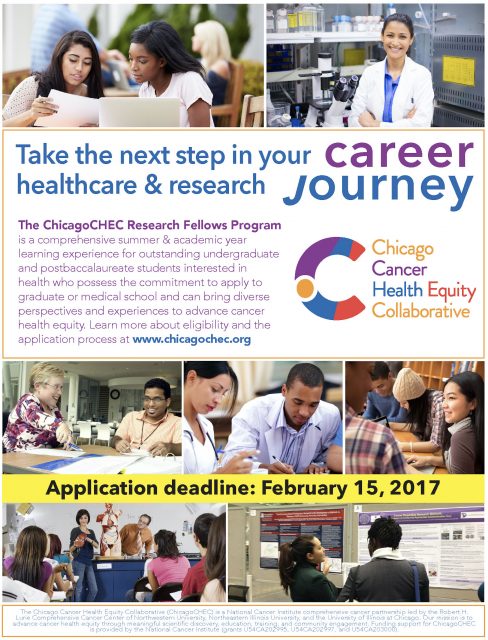 We are excited to announce that the ChicagoCHEC Research Fellows program is now accepting applications! This program is geared toward first-generation and underrepresented minority students interested in health or research careers. Apply soon – deadline for applications is February 15, 2017.
About the ChicagoCHEC Research Fellows Program
The ChicagoCHEC Research Fellows Program is a comprehensive learning experience for undergraduate and postbaccalaureate students at Northeastern Illinois University, University of Illinois at Chicago, Northwestern University, City Colleges of Chicago, and other Community/ Junior Colleges in the Chicago metropolitan area. We are seeking outstanding undergraduate and postbaccalaureate students with an interest in health and health care who possess the commitment to apply to graduate or medical school and can bring diverse perspectives and experiences to advance the nation's work toward cancer health equity. ChicagoCHEC Research Fellows will spend the summer in seminars and research rotations learning from leading scientists. Following the summer intensive program, ChicagoCHEC Research Fellows will have the option to be matched with a research mentor and research project during the academic year.
Application Deadline: February 15, 2017
Program Dates
June 19 – August 11, 2018: summer intensive experience
Fall 2017: optional research team placement
How to Apply 
Please visit the ChicagoCHEC website for eligibility & application instructions:
http://chicagochec.org/opportunities/education-training-programs/research-fellows-2017/
Questions?
Email us at [email protected]