---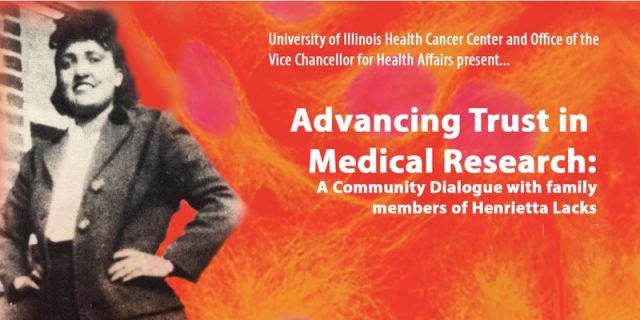 Join us for a very special program with the family members of Henrietta Lacks
Friday, July 7, 2017
11 a.m. – 4:15 p.m.
 (Lunch is from 11am – 12pm; talks and panel discussion from 12-2:15pm; and book signing and film screening of The Immortal Life of Henrietta Lacks from 2:15 – 4:15pm)
UI Health Cancer Center invites you to a special community dialog with family members of Henrietta Lacks as they discuss the era of precision medicine, and the relationships between patients and medical researchers. The discussion will include:
Lacks family members: (Henrietta Lacks' daughter-in-law, Shirley Lacks; Lacks' granddaughter, Jeri Lacks Whye and Lacks' great granddaughter, Veronica Robinson)
Robert A. Barish, MD, MBA, Vice Chancellor for Health Affairs & Professor of Emergency Medicine
Robert A. Winn, MD, Associate Vice Chancellor for Community Based Practice; Director, UI Health Cancer Center
Dara P. Richardson-Heron, MD, Chief Engagement Officer, National Institutes of Health All of Us Research Program
Karriem S. Watson, DHSc, MS, MPH, Director of Community Engaged Research and Implementation Science, UI Health Cancer Center
Lisa Anderson-Shaw, DrPH, MA, MSN, Director of the Clinical Ethics Consult Service, UI Health
Ashish Ansal, MD, Family Medicine, Mile Square Health Center, Englewood
UI Health Patient Brigade Members RoseMarie Rogers and Carol Gyimatey
Admission is free and open to the public. Seating is limited. Registration is required.