---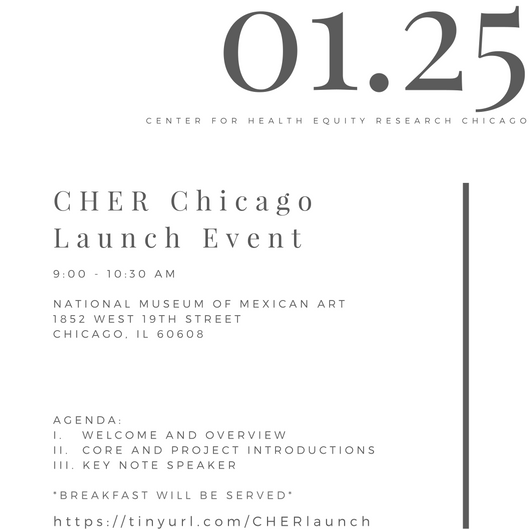 Event Type: Open to the Public
Sponsor/Host: UI Cancer Center and the UIC School of Public Health
Location: National Museum of Mexican Art
Address: 1852 W 19th St, Chicago, IL 60608
Email:

[email protected]



CHER CHICAGO LAUNCH EVENT – THURSDAY, JANUARY 25, 2018 at 9AM
The University of Illinois at Chicago (UIC) received $6.75 million from the National Institutes of Health (NIH) to establish a specialized Center of Excellence in minority health and health disparities research to build the Center for Health Equity Research Chicago, CHER Chicago.
CHER Chicago, based out of the UI Cancer Center and the UIC School of Public Health,  and in collaboration with The University of Chicago Medicine, investigates how various social structures and determinants contribute to the health of marginalized groups.  CHER Chicago acknowledges that structural violence and its effects on people and communities can only be eliminated through engaging community partners in meaningful ways to transform academic research to real world social change.  RSVP and forward to your networks as space is limited to the first 100.
Principal Investigators: Dr. Robert A. Winn, Dr. Martha Daviglus, and Dr. Jesus Ramirez-Valles.
Keynote speaker: Dr. Steve Meeks, Chief of Health Services of the Illinois Department of Corrections.