---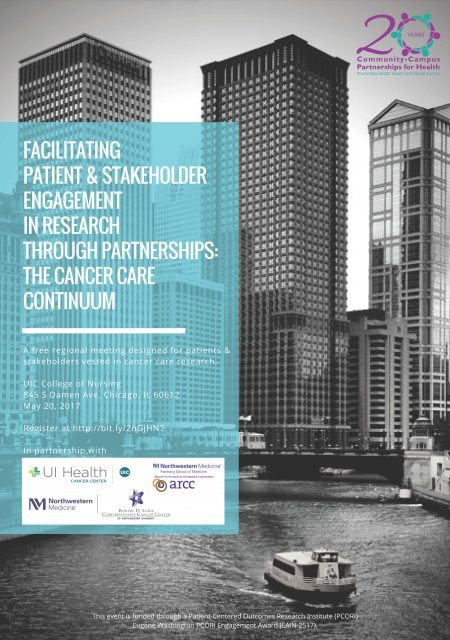 Event Type: Open to the Public
Sponsor/Host: CCPH, UI Health Cancer Center, Lurie, ARCC
Location: UIC College of Nursing Event Center (3rd Floor)
Address: 845 S Damen Ave. Chicago, IL 60612
More information: View Event Page »

Coming to Chicago, IL is a one-day, FREE conference hosted by Community-Campus Partnerships for Health (CCPH), in partnership with the UI Health Cancer Center, the Alliance for Research in Chicagoland Communities at Northwestern University (ARCC) and the Robert H. Lurie Comprehensive Cancer Center of Northwestern University:
Facilitating Patient & Stakeholder
Engagement in Research Through Partnerships:
The Cancer Care Continuum
Saturday May 20, 2017
8:30 AM – 3:30 PM
***LOCATION UPDATED***
UIC College of Nursing
Event Center (3rd Floor)
845 S Damen Ave.
Chicago, IL 60612
This event is designed to bring together various stakeholders including:  patients, clinicians, researchers, and advocates, to learn about and discuss the challenges faced, lessons learned, and benefits of patient-centered cancer care research. Learn more about the event and register Register now. Travel support is available for patient and community attendees. Please email Paige Castro-Reyes at [email protected] for more information.
This event is funded through a Patient-Centered Outcomes Research Institute (PCORI) Eugene Washington PCORI Engagement Award (EAIN-2517).