---
Sponsor/Host: University of Illinois Cancer Center, Genentech, the All of Us Research Program and Equal Hope
Location: Chicago State University
Address: 9501 S. Dr. Martin Luther King Drive Chicago, IL 60628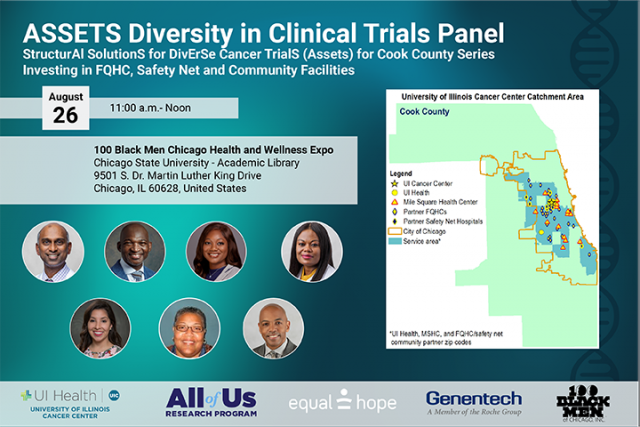 At the 100 Black Men of Chicago Health and Wellness Expo, leaders from the University of Illinois Cancer Center, Genentech, the All of Us Research Program and Equal Hope will host a panel discussion on structural solutions for diverse cancer clinical trials.
Diverse Cancer Clinical Trials Experts
Expert panelists for the session, "Structural Solutions for Diverse Cancer Trials (ASSETS) for Cook County Series: Investing in Federally Qualified Health Centers, Safety Net and Community Facilities" include:
Pamela Thomas Hall – UI Health patient and participant across multiple clinical trials
Arielle Guzman – Biorepository Clinical Research Coordinator in the Cancer Center Clinical Trials Office
Paris Thomas, PhD – Executive Director for Equal Hope, a non-profit organization committed to health equity
Keith Naylor, MD – UI Health Gastroenterologist and Cancer Center member
Abiola Ibraheem, MD – UI Health Medical Oncologist and Cancer Center Member
VK Gadi, MD – Cancer Center Deputy Director
Karriem Watson, DHSc – Chief Engagement Officer, All of Us Research Program, National Institutes of Health
Sheron Robinson – Director of Healthcare Market in Chicago, Genentech
Examples of structural solutions for diverse cancer clinical trials include decentralized navigation that allows uninsured and underinsured patients to be on trials even if the hospital with the trial doesn't accept their insurance or they have no insurance; investigator initiated trials; and racial and ethnic concordance in patient-provider relationships.
Charles Walton, MBA, executive director of the organization 100 Black Men of Chicago, is a member of the Cancer Center's Community Advisory Board. The Chicago chapter Walton runs is part of a nationwide organization that connects business leaders and other adult volunteers with African-American males, ages 13 to 18, to provide mentoring, education, health and wellness, and economic empowerment.
Learn more!