---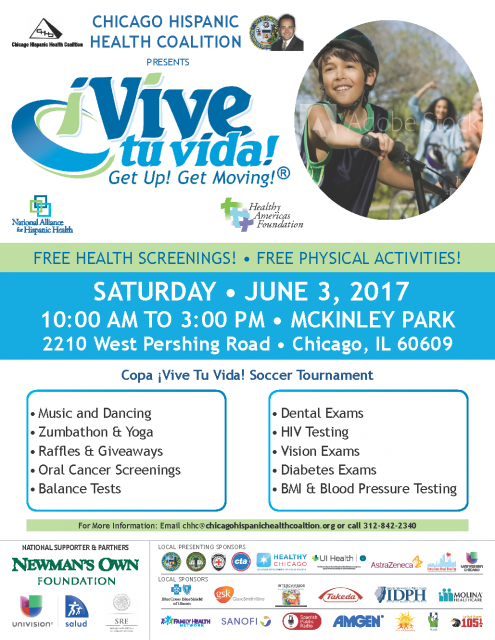 ChicagoCHEC is proud to be a sponsor of the 11th Annual  ¡Vive Tu Vida! Get Up, Get Moving! health fair organized by the Chicago Hispanic Health Coalition under the leadership of Esther Sciammarella.
This FUN family oriented event will take place on Saturday, June 3rd from 9 am to 2 pm at McKinley Park located at 2210 W. Pershing Road, Chicago, IL 60609.
ChicagoCHEC will have a booth and will also be actively involved in various health and physical activity demonstrations designed to entertain and educate the fair's attendees."
We are also looking for volunteers to help throughout the fair and help facilitate the above mentioned activities.  For more information re: volunteer opportunities, please contact Karina Bautista via email [email protected] or call them at (312) 842-2340. You may also visit their website at: www.ChicagoHispanicHealthCoalition.org
Do you want to be part of Team ChicagoCHEC for this event?  Please contact Elena Navas at [email protected] or via cell (312) 622-5041.