---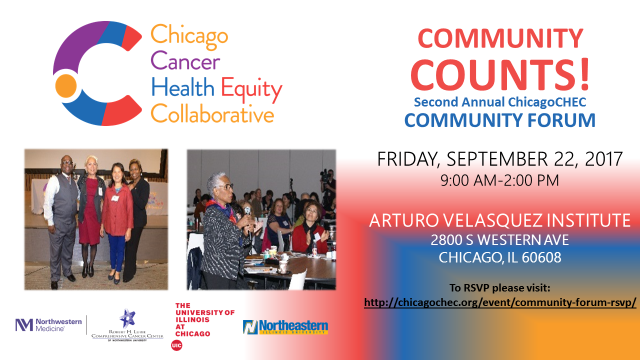 Join us for the 2nd Annual ChicagoCHEC Community Forum:
Community Counts!
---
Date: Friday, September 22, 2017
Time: 9:00 a.m. – 2:00 p.m.
Place: Arturo Velasquez Institute
2800 S Western Ave, Chicago, IL 60608
Please join community & civic leaders,  community members, healthcare leaders, students, and academic partners for the Second Annual ChicagoCHEC Community Forum to:
— Bring people together to address cancer issues
— Be a call to action to address cancer inequities in Chicago communities
— Learn more about cancer research, prevention, treatment, and survivorship
The event is free and open to the public. Space is limited.
---
Únase a los líderes comunitarios y cívicos, miembros de la comunidad, estudiantes y socios académicos en el Segundo Foro Comunitario de ChicagoCHEC para:
— Reunirnos y dialogar sobre temas relacionados con el cáncer
— Tomar acción para mejorar las inequidades alrededor de cáncer en el área metropolitana de Chicago
— Obtener información sobre los estudios médicos, sobre prevención, tratamiento y sobrevivencia del cáncer
El evento es gratis y abierto al público. Espacio es limitado. 
(Click to open in a new tab: https://goo.gl/forms/1PN2RfafZcaFoo0p2)
Funding support for ChicagoCHEC is provided by the National Cancer Institute (grants U54CA202995, U54CA202997, and U54CA203000). The content is solely the responsibility of the authors and does not necessarily represent the official views of the National Institutes of Health.
ChicagoCHEC está financiado por el Instituto Nacional de Cáncer (propuestas U54CA202995, U54CA202997, y U54CA203000). El contenido es responsabilidad exclusiva de los autores y no representa necesariamente las opiniones oficiales de los Institutos Nacionales de la Salud.