---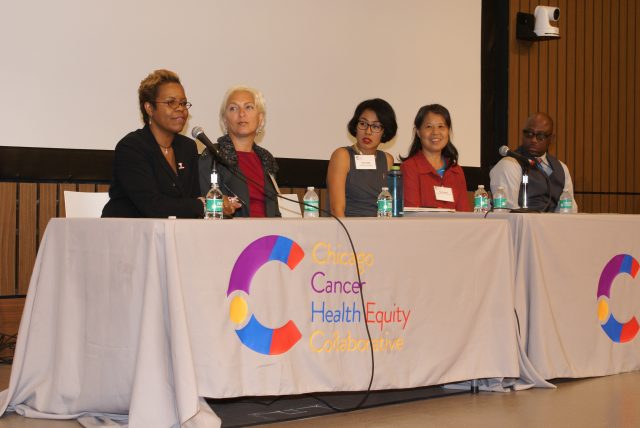 Click here for our Community Benefits Report, highlighting the first year of our partnership.
CHICAGO – Six separate research projects into cancer health in Chicago's underserved communities have been funded in the past year, the Chicago Cancer Health Equity Collaborative (ChicagoCHEC) announced at its first annual community report and symposium on Thursday, Sept. 29, at Chicago's Malcolm X College.
The studies address disparities ranging from breast cancer among Hispanic women to prostate cancer in the African-American community.
Led by researchers from the Robert H. Lurie Comprehensive Cancer Center of Northwestern University, Northeastern Illinois University and the University of Illinois at Chicago, ChicagoCHEC is a groundbreaking collaborative that fosters meaningful cancer research, education, training and outreach within the city's underserved communities.
"Health inequities that harm Latinos, African-Americans and other underserved communities occur in many areas, including cancer, and ChicagoCHEC is dedicated to reducing and eliminating these disparities," said Cook County Commissioner Jesus "Chuy" Garcia, the event's closing keynote speaker. "In addition to access to medical care as a basic human right, this collaborative looks to address the underlying conditions that cause these disparities by bringing together academic, health care and community organizations to work to achieve cancer health equity."
Through activities such as the symposium, ChicagoCHEC is setting a new standard among funded projects by keeping the community informed on its progress and soliciting feedback about how to most effectively approach cancer disparity research differently. It is supported by a five-year, $17.4 million grant from the National Cancer Institute.
According to data from the Illinois Department of Public Health, low-income Chicago communities that are predominantly African-American or Latino face cancer death rates up to double the national average.
"Our goal is to transform how community engagement and research are conducted, thus changing the architecture of how we collectively improve health equity," said Dr. Melissa A. Simon, the George H. Gardner, MD, Professor of Clinical Gynecology in obstetrics and gynecology at Northwestern University Feinberg School of Medicine, and co-director of the Lurie Cancer Center's Cancer Control and Survivorship Research Program.
"In addition to community and institutional partnerships, supporting collaborative research to improve cancer prevention, early detection, treatment and survivorship is an essential element of this partnership," said Christina Ciecierski, associate professor of economics at Northeastern Illinois University.
Of the six research projects funded in the past year, the three projects originally funded with the grant in October 2015 have made significant progress.
The Choose to Change project tests a new approach to reducing cigarette smoking among patients of Near North Health Services Corporation, a large safety net community health center in Chicago. Researchers on the project are closing first-round tests of a new one-step electronic referral and feedback system that connects more smokers from federally qualified health centers to free smoking cessation treatment at the Illinois Tobacco Quitline.
The WeCanConnect pilot aims to develop and evaluate a mobile app to promote peer support and information sharing among people with pre-existing disabilities who have been diagnosed with cancer by matching them to cancer survivor peers in the disability community. Experts in cancer care for people with disabilities (many of whom are cancer survivors with disabilities themselves) and members of the disability community are currently providing critical insights into their needs and priorities. As part of the project, UI Health's Mile Square Health Center and the Program for Healthcare Justice for People with Disabilities will host ScreenABLE Saturday: A Celebration of Wellness for Women with Disabilities on Oct. 15.  The centerpiece of ScreenABLE Saturday will be free accessible cancer screening for women with disabilities who are 22 percent less likely to get screening mammograms than their non-disabled peers.
The Mi Guía (My Guide) study aims to create and evaluate a smartphone app for English or Spanish-speaking Hispanic women completing treatment for breast cancer, which is the leading cause of cancer-related death for Hispanic women. Through the Mi Guía app, Hispanic breast cancer survivors will receive culturally relevant information to help them improve cancer-related symptoms and health-related quality of life. A group of breast cancer survivors has provided initial feedback to help refine content and design of the app.
Three newer research projects, funded in May of this year, are still in the organizational stages. These projects address prostate cancer disparities among African-American men, obesity intervention development for Puerto Rican and Mexican men, and colorectal cancer disparities on Chicago's South Side.
"The racial and ethnic disparities in health care outcomes are an alarming and urgent public health issue," said Dr. Robert Winn, associate vice president for community-based practice at UI Health, director of the University of Illinois Cancer Center and professor of medicine at the UIC College of Medicine. "We know the traditional top-down approach isn't working, so it's time to engage with the community in a new way to end these disparities."
The Community Steering Committee of ChicagoCHEC is at the heart of the coalition's efforts, according to Dr. Moira Stuart, associate professor of health, physical education, recreation and athletics at Northeastern.
"The 20-plus key community stakeholders on the committee represent the diversity of Chicago communities related to race/ethnicity, gender, sexual orientation and disability," Stuart said. "Our community steering committee is central to guiding the strategic efforts to foster meaningful partnerships across Chicago communities." Click here for a Spanish article from La Raza highlighting the work of ChicagoCHEC Steering Committee Member Esther Sciammarella from the Chicago Hispanic Health Coalition.  
The symposium featured a panel of public health care providers, a town hall forum and networking opportunities to mobilize Chicago communities in the areas of cancer survivorship, health care access and delivery, research and clinical trials, community capacity building and cancer health education.
During the town hall, community members expressed the desire to ensure they continue to be part of the conversation about improving health outcomes, to address language barriers in medical treatment and to engage with academic research activities. Click here for an interview of community members and breast cancer survivors Maria Constance Medina and Maria Mercedes Reyes from Spanish Public Radio by Dr. Elena Navas.
Dr. Linda Rae Murray, the former chief medical officer of Cook County Health and Hospital System, and breast cancer survivor Roz Varon, the Emmy Award-winning traffic and transportation anchor for ABC 7, delivered keynote speeches.  Click here for video of Roz Varon at the Symposium from ABC 7. 
The symposium served to kick off a series of local community events taking place in Chicago through 2016 and 2017.