---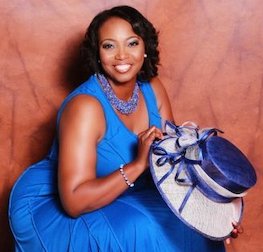 Congratulations to Candace Henley, Chief Surviving Officer at The Blue Hat Foundation for being selected as one of twenty Most Inspiring Chicagoans who make the city a better place to live and work.
She will be honored at a Gala on September 26, 2019, at Galleria Marchetti, located at 825 W. Erie at 5:30pm.
For more information, sponsorship opportunities and tickets click here.
From StreetWise – Ms. Candace Henley's Profile:
"Candace is a tireless advocate for colon cancer prevention and support. Candace was a single mother who was raising five children who lost her car and home while battling colon cancer. Her own battle and the devastation it left on her life and that of her children inspired her to create The Blue Hat Foundation. The organization is founded on unconditional support and compassion for people fighting colon cancer. Their mission is to provide education, information, and free screenings for colon cancer in minority and medically underserved communities. The Blue Hat Foundation started as a single event, "Blue Hat Bow Tie Sunday"—at one church in Chicago. The program is now in 15 churches and promotes "education through participation," by asking the congregation to wear blue in honor of someone who is fighting or passed away from colon cancer. In addition to the Sunday events, The Blue Hat Foundation raises awareness about the disease's signs, as well as shares stories of personal experience, through speeches, podcasts, articles and community partnerships."
Source: https://www.streetwise.org/get-involved/20-most-inspiring-chicagoans/2019-honorees/candace-henley/
Learn more at The Blue Hat Foundation here: https://www.thebluehatfoundation.org/
Candace also spoke about the importance of diversity in clinical research at the All of Us Research Program launch event in May 2018 and at ChicagoCHEC's Community Forum in 2017.
About StreetWise:
The StreetWise mission is to empower the entrepreneurial spirit through the dignity of self-employment by providing Chicagoans facing homelessness with a combination of supportive services, workforce development resources and immediate access to gainful employment.
StreetWise magazine is among the largest "street papers" in the United States and serves as a model for street papers across North America.
Its staff have received numerous national, state, and local awards for the quality of StreetWise offerings, its service to the homeless population of Chicago, and its importance to the community in general. Reporters and contributors include professional journalists, journalism students, StreetWise vendors, as well as clients from other Chicago area social service organizations.
StreetWise provides a flexible employment opportunity via the sales of StreetWise magazine. The magazine itself covers topics that can be defined as "socially conscious and Chicago-centric," reporting on areas of homelessness, poverty and social reform as well as Chicago art, culture and more.